INTRODUCTION
All Ironclad backboards are encased in either a steel or aluminum perimeter frame. The glass is locked in place at the four extreme corners during the backboard production process. The perimeter frame encasement measures approximately 2.5" in thickness which further adds to the stability and rigidity of the backboard.
FEATURES
1/2" thick tempered glass, same thickness as competition glass backboards (1/4" on GC models)
2.5" thick aluminum frame, same as competition glass backboards
Superior H-Frame style backboard support, supports more weight than any other backboard design
DIRECT RIM MOUNTING
Each backboard is designed to minimize and/or eliminate stress on the glass when players hang on the rim. This is what we call "direct rim mounting." Direct rim mounting involves a backboard design that prevents the rim from pulling on the glass when a player hangs on the rim. Direct rim mounting is a design feature that is critical to the longevity of any backboard and we build it into every product we make.
H-FRAME MOUNTING BENEFITS
Ironclad backboards are built using one of two direct rim mounting support concepts. H-Frame or Clear View. H-Frame supported backboards are the strongest, they employ a steel "H" visible behind the glass generally positioned behind the shooter's square.
These backboards provide the most protection against backboard breakage because they support and absorb 100% of the stress transferred when weight is added to the rim. The H-Frame backboard design is utilized on our Gamechanger, Triple Threat and Highlight Hoops goals.
The H-Frame is manufactured from heavy wall 1.5" square tubing with 3/16" face plate that receives the rim. The face plate is strengthened by a welded 2" square steel tube that is welded horizontally behind the face plate positioned between the upper and lower rim bolt holes. This type of "boxed" design give the H-Frame a natural strength that prevents twisting and makes the Rim-Backboard-Hframe connection nearly indestructible regardless how much weight is suspended from the rim.
INcluded on MODELS:
GC55-MD, GC55-LG, TPT553-MD, TPT553-LG, TPT554-LG, TPT664-XL, TPT684-XXL, TPT885-XXL, HIL664-XXL and HIL885-XXL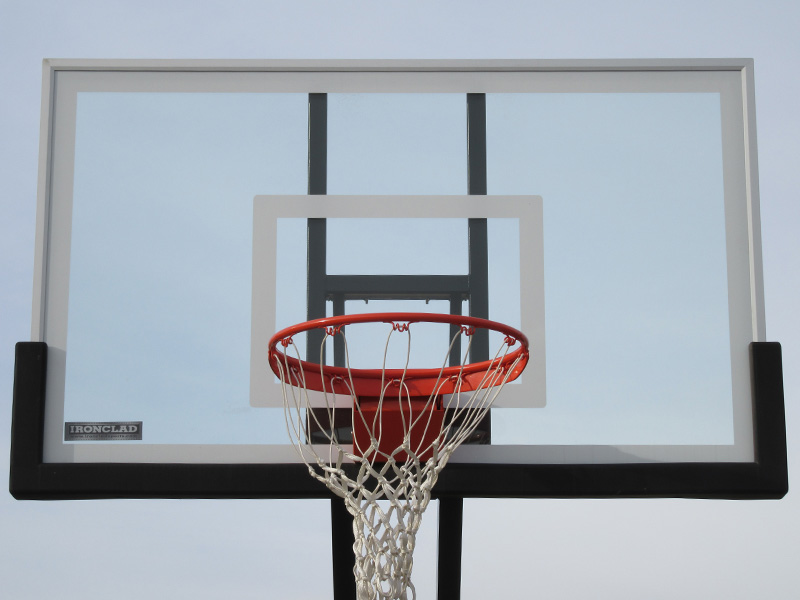 Above: H-Frame backboard shown on model TPT553-LG.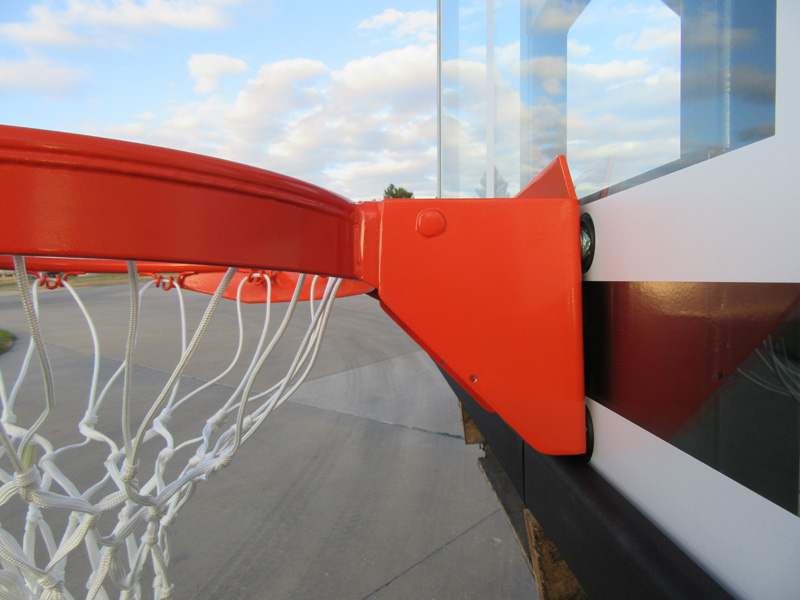 Above: The grommets on the H-Frame backboard protect the rim from touching the glass.