Introduction
Each Ironclad adjustable basketball system includes a professional quality breakaway rim and net.
Features
Heavy 7 gauge steel construction
Double return spring design
Safe and secure continuous wire net attachment
Built in finger guard for safety
What is a Breakaway Rim?
A breakaway rim will flex down when a player hangs on it and snap back up when released. The heavy duty rim design will not fail or deform regardless of the aggressive level of play. Each rim includes two return springs encased inside that compress when 165 pounds or more is added to the rim. When the pressure is released, the return springs extend returning the rim to its original level position. A cover plate conceals the spring mechanism for safety. Beware of basketball rims with exposed springs!
The Net
The rim is designed with a no-fail net attachment system consisting of traditional "ram horn" style net connectors. This tried and true method of connecting the net is reliable and safe. This style of net connection is superior to those that employ use of a cable or wire to connect the net because ram horn style net connectors do not cut or wear out the net as quickly, extending the life of your net. Ram horn style connectors also allow much quicker and easier net replacement when it is time to replace your net. The net included is also much heavier than those commonly supplied by competitors and should last through many seasons of outdoor use before needing to be replaced.
Durability and Mounting Design
The rim is powder coat painted in traditional orange for long term durability so paint will not chip from heavy use or fade due to exposure outdoors. The rim is connected to the backboard and backboard support using stainless steel bolts for long term strength and zero rust. Backboard breakage is virtually eliminated due to the force absorbing action of the breakaway rim itself and rim mounting design. First, the breakaway rim absorbs much of the force by dampening the energy of a dunk as the rim flexes downward. Second, the additional energy is transferred to the backboard support structure, rather than the glass by utilizing Ironclad's "no-pressure" rim mounting design. This means the glass is exposed to virtually no stress from hanging on the rim, eliminating the risk of broken glass due to dunking.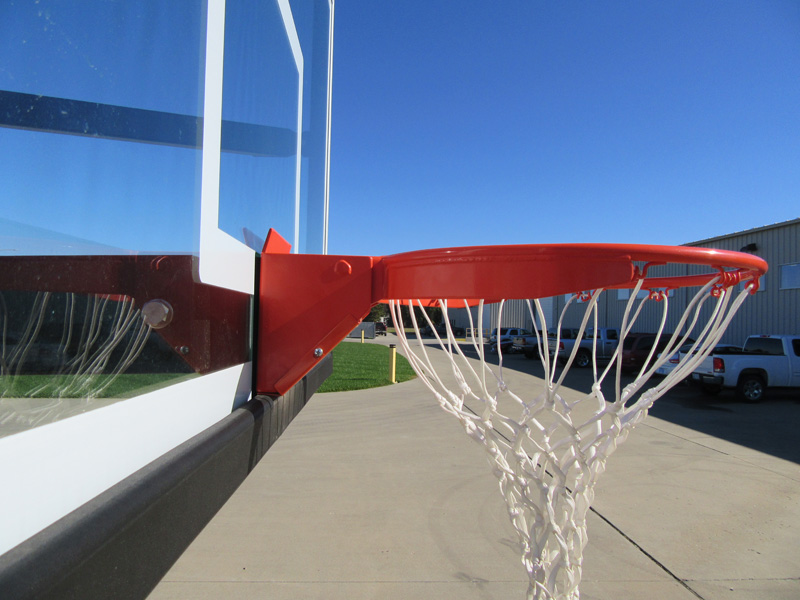 Above: Side view of the breakaway rim.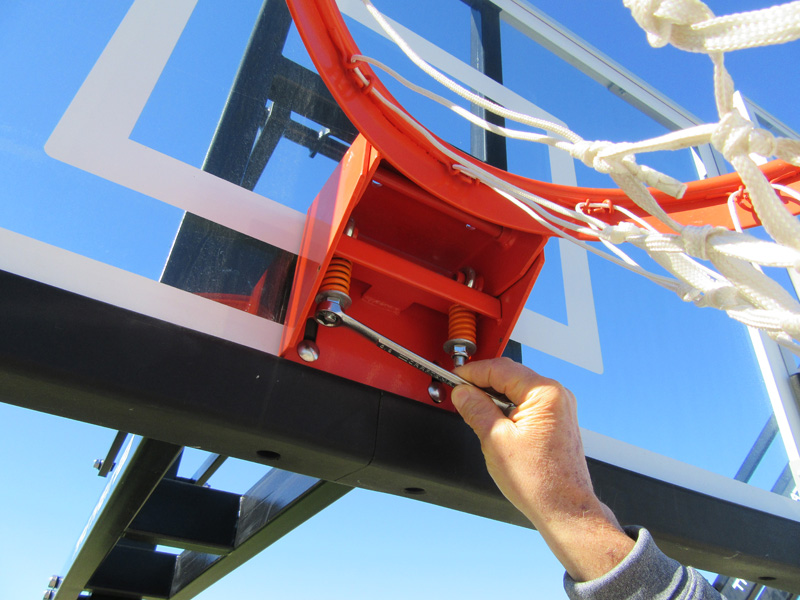 Above: Tension adjustment on the rim springs.