Backboard specifications
Backboard Size
Backboards come in many different sizes. Most common are:
54" Wide
This is a great size for those with little space or a smaller budget and is ideal for a 1-car driveway or small court.
60" wide
If you have a larger driveway or court, a 60" basketball goal provides a great playing experience while not taking up too much room.
72" wide
Regulation-sized hoops are well-suited for large driveways and courts. If you are a serious player and have the space, there is simply no substitute for practicing with a regulation hoop.
Surface Area vs. Aesthetic Preference
In the end, don't get hung up on backboard size. For a goal to impede your ability to shoot back shots, you would have to go smaller than 48" wide. Keep in mind, it wasn't that long ago that most high schools were still playing games on small, fan-shaped backboards. Regardless of size, most reputable companies manufacture their backboards with a regulation size shooter's square (target) printed on the backboard. The official size for a shooter's square is a 24" wide x 18" tall x 2" wide stripe. Do not buy a goal if it does not have the proper size of shooter's square printed on the backboard. Since most bank shots taken on the court are shot at the shooter's square, your backboard size decision should be based more on your personal aesthetic preference than concern over surface area. Aesthetically, 54" backboards have a square look. Sixty inch backboards are rectangular in shape like an official 72" backboard.
BackBoard Support System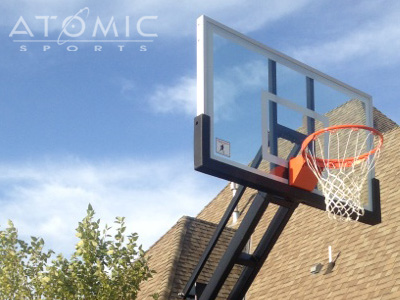 A good support system is necessary for the longevity of your basketball goal. Ironclad backboards use one of two direct rim mounting support concepts.
H-Frame
H-Frame supported backboards are the strongest. They employ a steel "H" visible behind the glass generally positioned behind the shooter's square. Choose a model that uses this style of backboard support if you anticipate a lot of hard core hanging on the rim. The H frame style support is the most likely to never fail.
Clear View
Clear View perimeter support provides a durable, clean look with no obstruction behind the glass. This backboard support integrates the rim support into a steel perimeter frame that runs aroud the outer edge of the backboard behind the glass. This style is also very durable and can withstand dunking and hanging on the rim.
Backboard Material
Acrylic
Acrylic backboards, although intended to mimic the look of glass, can become scratched and scuffed over time. These backboards are also lighter and less dense, which means less ball bounce.
Tempered Glass
Tempered glass is the same material you windshield in your vehicle is made of. Glass backboards are the highest quality backboards and are what you will find on a high school, college or NBA court. Tempered glass resists scratching and fading even in outdoor driveway and court installations. It is also heavier, which prevents movement throughout the system during play. Tempered glass is unaffected by extreme cold and heat and can withstand high winds. Weather is not an issue for tempered glass.
Backboard Thickness
The thickness of the backboard is important because a thicker backboard indicates a sturdier and heavier backboard which translates to better ball bounce of the glass. Ironclad basketball goals come with a ½" thick tempered glass backboard that is encased in an aluminum frame, just like competition-grade goals. The only exception is the Gamechanger models, which are intended to be less expensive, entry-level hoops and use 1/4" - 5/16" glass.

Learn more about Ironclad's h-frame backboard.